LU-YH-CH-3-4-BEJ Hydraulic press set
The equipment for making floor coverings and other types of products
Special ready equipment (it is just necessary to feed raw materials and receive final products with the operator's assistance)

1. Specification:
This equipment serves to manufature unit-type dyed rubber. The production line is equipped with auto control of temperature, auto control of pressure, control lamps, it is of low noise and low vibration. The production line is easy to use, compact, it has many other advantages.

2. Composition:
The equipment consists of three main parts, namely, main unit, hudraulic and electric unit, în general, it is a single unit that is easy in application, mounting, transportation and service

3. Functions:
following the complete warming up and consolidation, it takes 8-10 min to make final product. high productivity allows to reduce the number of workers. A set of moulds allows products as follows: :
1-, 2-,.3-, 4 layer sport tracks
2 layer base for artificial lawns
Support for rails
Soft roofing
Soundproof floor mats for industrial premises
Footwear material
Shock paddings for rails
4. Manufacturer's services
Training of the personnel, technical maintenance, mounting and starting the equipment .
Any modification of the equipment, manufacturing of the equipment by order
Warranty
Model

YH–CH–1-BEJ

YH–CH–2-BEJ

YH–CH–3-BEJ

YH–CH–4-BEJ

Notes

Layer

2

3

4

6

Molds (pc)

upper 2, lower 4

upper 3, lower 6

upper 4, lower 8

upper 6, lower 12

The price of a set molds -2500RMB/set (the set includes 1 upper mold, 2 lower molds and guiding rails

Molds perimeters(mm)

500*500

500*500

500*500

300*300/500*500

Productivity m2/hr

3.75

5.6

7.5

25/30

Energy consumption kW.hr (average)

4.5

5

5.5

11

Annual productivity m2

20000

30000

40000

65000

Power consuming kw

14

18

22

34

Weight (tons)

2

2.3

2,5

6
Hydraulic four-gutter press for making floor covers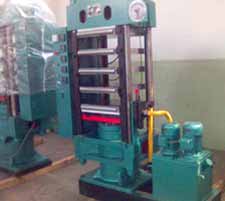 Rubber track production line is used for treatment of various materials that require hot molding under pressure. For instance, this machine can be used for making rubber products, various hot mold plastics and shapeless products from the above materials. It can also be applied for cold molding, PVC foam, footwear, tires etc. The field of using of rubber track production machines expands more and more.
This production line consists of press, hydraulic device, heating device and other parts. The column type press is reliable and durable. Hydraulic cylinder is installed in the lower part of the production line. The cylinder's piston moves up and down. The cylinder is made of high quality spheroidal pig iron. It affords accuracy in treatment is safe in operation and very reliable.
There are either 2 or 4 operation levels. Max clearance between levels is 125 mm. There are heating tubular elements inside each heating plate. Heating power of each heating plate is 6,3 kW. Heating temperature of the heating plate is shown by the indicator on the control panel. To adjust temperature modern indicators and controls are used. Heating indicator is installed on the control panel. Accurate and handy temperature control. The machine is supplied with microprocessor based adjustment system. Plates' temperature is stable the fluctuations are negligible. There's high accuracy of the heating control.
Hydraulic device of the mechanical part of the machine has one gear type oil pump and one axial plunger pump. The pumps mounted on the oil tank have simple and reliable design. Hudraulic device operates by itself, its control valve is installed on the main part of the machine. The device and simple and easy to operate. If the customer wants one pump to serve two or three machines, it requires just a little modification. Besides, the production line can be operated without any modifications

Specifications
Mold closure force: 0,63 mn. (63 tons)
Operation pressure: 16,5 mPa (165 kgs/cm2)
Size of heating plate: 500х500х2 or 400х400х2
Number of operation levels: 2 floors
Clearance between floors: 125 mm
Cylinder's piston stroke: 250 mm
Cylinder's piston diameter: 220 mm
Operation temperature: 128-200oС
Total heating power:
Plate 500: 10,8 kW
Plate 400: 9 kW
Electric engine power
Low pressure pump : 1,1 kW
High pressure pump 1,5 kW
Total weight:
of plate 500: is about 2200 kg
Plate 400 –about 2000 kg
Finished products (examples)
| | | |
| --- | --- | --- |
| Object used | Number of tires | Products, units of measuring |
| Additives for asphalt | 3500 tires | kilometer |
| High quality road impingment plates | 20000 tires | kilometer, height 3 m |
| Covering for a gym (25 mm) | 2400 tires | Gym 50 m2 |
| Covering for a playing room | 300 tires | 50 m2 |
| Stadium (15 mm) | 6000 tires | 3000 m2 |
| Tennis court | 700 tires | 600 m2 |
| Indoor tracks | 1300 tires | 1000 m2 |
| Rail paddings | 2000 tires | kilometer |
| Metro | 20000 tires | kilometer |